2016 Target Responsibility Commitment Signing Ceremony & Commendation Meeting of 1.30 Fire-fighting of Shenzhen New World Group By Qu Wenya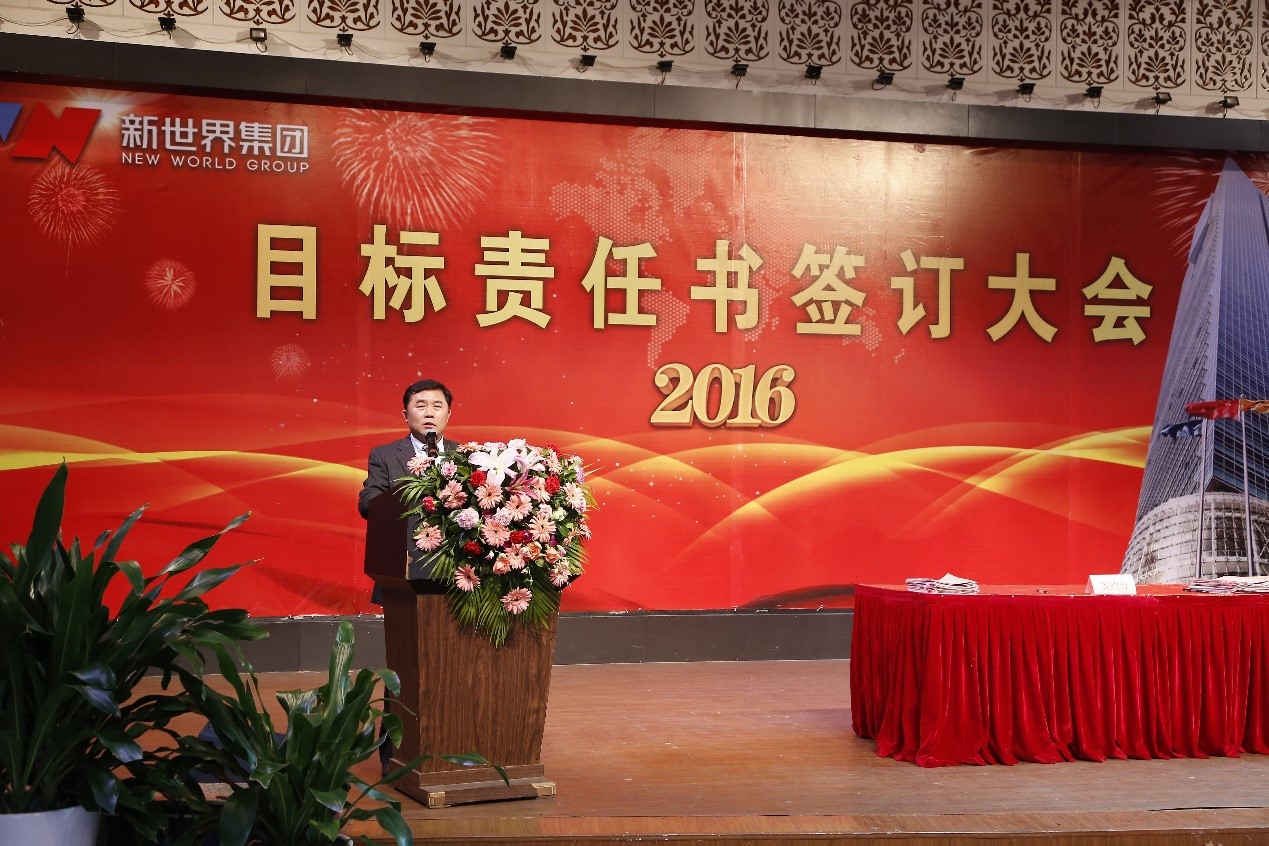 We've obtained great achievements in year 2015, and looking into year 2016, we wishthe Group will get further progress.
2016 Target Responsibility Commitment Signing Ceremony & Commendation Meeting of1.30 Fire-fighting of Shenzhen New World Group is held at Yinhu Tourist Resortat the afternoon of Feb. 20th, 2016. Mr. Huangwei - Standingvice-chairman of Board of Directors of HK Commercial Daily and Chairman ofShenzhen New World Group, Guan Lingen – Senior Consultant of theGroup, GM Yanjun, special guests and all staffs of the Group attended the meeting.
During themeeting, Advanced Groups and Outstanding Individuals of the 1.30 firefightingevent have been awarded. During the firefighting, they took the lead and werenot afraid of dangerous, they showed courage and dedication, and they triedtheir best to put off the fire at the first time of the outbreak of fire; theirfearless efforts, not only reduced the loss of company property to its maximum,but also presents the spirit of loyalty and selfless dedication of employees ofNew World. They are good examples to follow for all staffs. Leaders presented awardedthem with trophies and prize money.
Then, GMYanjun deployed annual business target and key tasks of 2016. Because keyprojects of 2016, such as Wenbo Project are in the last stage, so in order toaccomplish final acceptance of the project on time, project department shouldpush forward construction progress while assuring quality and safety. NanshuiProject is the project with the biggest initial investment, the constructionbelow the surface should be completed by end of 2016; Approval of SpecialPlanning of Shangdong project should be obtained and non-agricultural indexshould be confirmed. In order to realize the company's business goal, standardizedplanning and operating system should be built on aspects of safeguardmeasurements and management; to optimize and improve the system of salary,benefits and performance appraisal; to strengthen construction ofinformatization so as to improve the management level and operation efficiencyof the enterprise; In terms of financial management, tax planning should be strengthenedand operating costs of the company shall be reduced. GM Yan hopes everydepartment and every subsidiary act according to the management requirement of "breakdown responsibility from top to the bottom, and make sure to perform theresponsibility from bottom to top"; the annual business target shall beassigned to every post and implemented by every staff. To ensure the realizationof the Group's overall business objectives and to complete key taskssuccessfully, the annual target was divided into seasonal target, and thenmonthly target. To reach annual target, seasonal target shall be accomplished,and likewise, to reach seasonal target, monthly target shall be completed. Lastbut not least, GM Yan hopes that everyone can put their heart fully into theirwork in 2016, and make greater contribution to the development of the group.
After GMYan's deployment, Chairman Huangwei gave a speech in which he praised theadvanced workers in 1.30 firefighting event. Our company is proud to have suchdedicated, self-sacrificing and royal stuffs, they are the fortune of ourcompany and they are good examples to follow. Huangwei said that, at the beginningof year 2016, he hopes that every employee will work harder, and continue tocarry forward the spirit of hard working, enterprising and innovation. And hewish every employee and the Group will do better in the year 2016 and achievebigger success.
Target Responsibility Commitment was signed between Chairman and GM, and betweensupervising units and supervised units in warm applauses. After the meeting, leaders,guests and staffs had wonderful dinner in a joyful atmosphere.